Victoria Claesson
President of HI TECH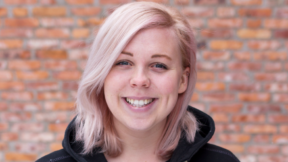 Hello!
My name is Victoria Claesson and I am the President of HI TECH and I extend my warmest welcome to you, whether you are a former, current or potential member of this student association, or simply just interested in our work.
Our goal in HI TECH is to encourage and support students in their studies, social life, integration between international and Swedish students and their contact with future employers. More in our work we make sure that the members can influence their education at the school and we constantly work with developing the way for them to do so. Also, we make sure that there are several awesome, meaningful and totally epic social activities throughout the year in order to make sure that our members' study time here at Jönköping University will be remembered as the best time of their life.
More than being President of HI TECH, and main responsible for all activities occurring at JTH, I spend half my time as part of Jönköping Student Union management. At the Student Union me and students from the other schools, are working on impacting Jönköping University as a whole, as well as society on both municipal-, regional- and national level. My main focus lies on Equal Treatment, but I collaborate on matters like education, internationalization and student housing as well, to mention a few.
We always seek to improve and develop, so if you have any ideas that may help us, let us know! Any awesome projects you want to start, thoughts on activities or ways to improve are more than welcome, so e-mail, text or call me or any of my colleagues when inspiration hits you. But most importantly, come to our biannual meetings every semester! During the biannual meetings all members of HI TECH have voting rights, and can influence the work that we in the board are doing. You could even apply for the vacant positions on the board!
See you around the school!
Keep calm and be an engineer!
President of HI TECH since July, 2016
0760 - 48 48 68
president.hitech@js.ju.se