Victoria Claesson
President of HI TECH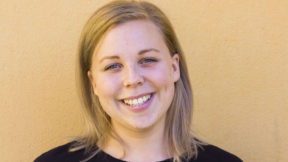 Hello!
My name is Victoria Claesson and I am the President of HI TECH and I extend my warmest welcome to you, whether you are a former, current or potential member of this student association, or simply just interested in our work.
As the President of HI TECH I work part of my time with HI TECH specific matters, and part of my time at Jönköping Student Union. In HI TECH it is my job to ensure that we work according to our plan of operation, that the students voice remain as our focus and that we as an organization continue to strive towards improving ourselves. At the Student Union my main focus is quality systems. More than that I work with issues that is common to both HI TECH and the Student Union, such as; Education, work environment and social events.
When I'm not in a meeting or work with tasks connected to them, I try to support all the other board members in their daily work and develop HI TECH as an organization.
Engage yourself in the Board of HI TECH or in any of our committees or projects, it will be the best time of your life!
Trust me, I'm an engineer!
President of HI TECH since July, 2016
0760 - 48 48 68
president.hitech@js.ju.se